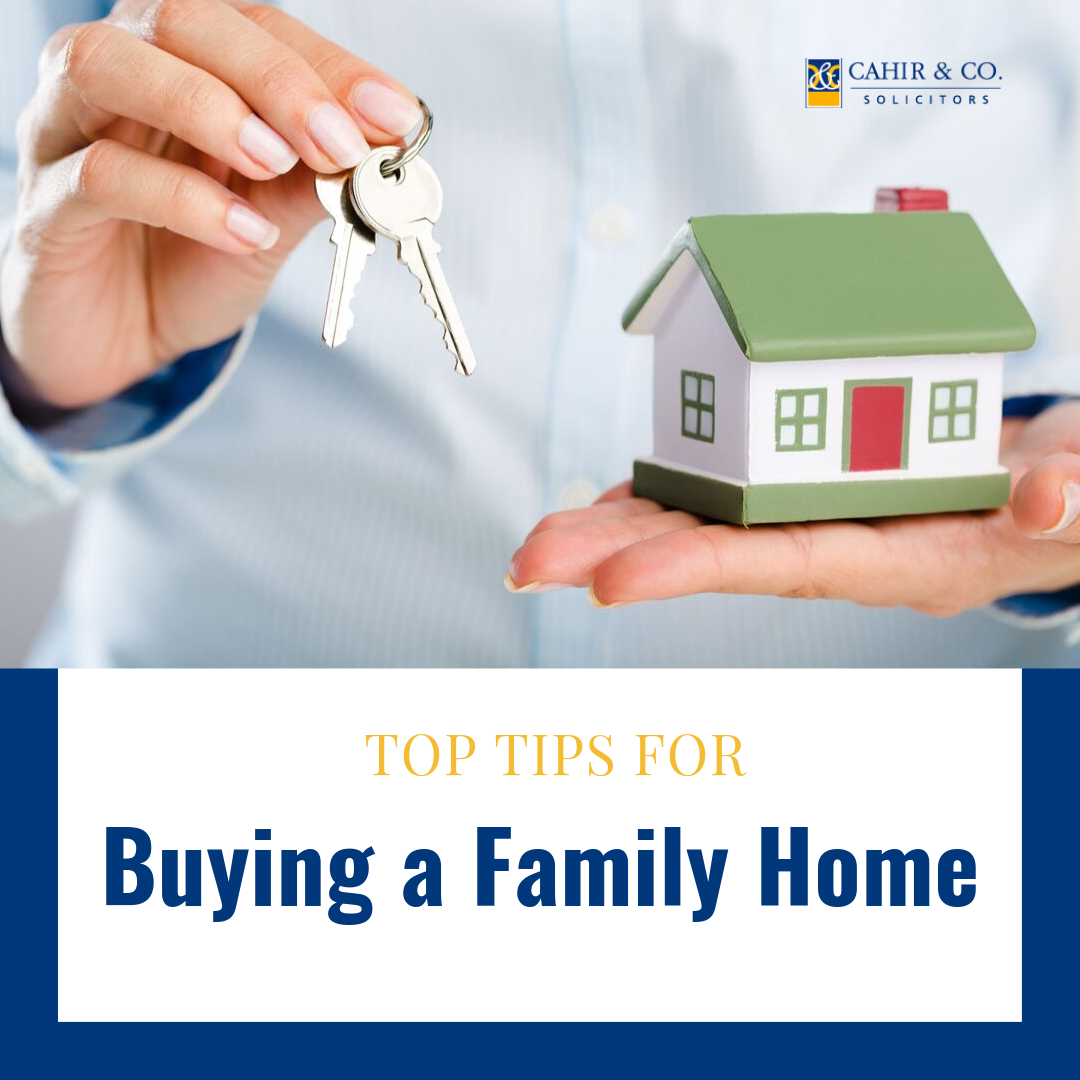 Top Tips when Buying a Family Home
Buying a family home is one of the most momentous decisions that a lot of people will ever make. So, naturally you want it to be an enjoyable experience and that means understanding the process, and knowing what's required of you and your professional team including your solicitor, your mortgage broker/bank and your surveyor at all stages. Understanding the will ensure that you will be opening the door of your home hassle-free and stress-free in no time.
Here are some of the top tips to ensure that buying a house is a memorable and enjoyable event.
Do your Sums/ Finances
Talk to a mortgage broker and to your bank to find out your borrowing limits for buying a family home. In recent years the central bank has imposed strict conditions on the amount of money that individuals can borrow for their family home. Don't make assumptions! According to financementflip.com, being mortgage approved before putting an offer on a property can very often be the difference between a seller accepting the offer or not. In a rising market knowing your purchasing limit is crucial.
Inspect the property thoroughly
When viewing a property don't be afraid to check the boiler system, flush toilets, turn on taps, and open or close windows. If the property is a septic tank ask where is it and where is the soak pit. Negotiate over the contents and ask for specifics with regards to what is included and what is not included.
Talk to your solicitor
It is never too early to talk to your solicitor. Let them know what your plans are for buying a family home and the type of property that you are looking for. Ask them if they have any advice to give you. Their experience and expertise in dealing with property transactions are one of the greatest strengths that you have on your side. Ultimately the contract for sale will be the single most important document governing the entire transaction. It is of great importance that this is scrutinised by your solicitor and that any special conditions put into the contract by the vendor are limited to only those that are strictly necessary and that equally any special conditions required by you the purchaser are properly set out and inserted. A purchase is only binding when the contracts have been signed by both parties and a full deposit paid. It is therefore crucial that your solicitor acts fast deals with all of the queries and has a full consultation with you to go through all issues. Delays in the process can be expensive and can result in you having additional accommodation costs.
Get a Structural Survey 
A structural survey is recommended as the vendor is under no duty to disclose any physical defects with the property! Therefore, the principle of caveat emptor or "buyer beware" applies and a survey will identify any issues such as dampness, loose roof tiles, poor insulation or a flood-prone area. Also, ask your Engineer to comment on the quality of any extensions or home improvements and if they required planning permission. A detailed house survey is well worth the price when buying a family home because it will give you, the home buyer, peace of mind. If the building survey turns up little wrong with the home, you will be able to move into your new home worry-free. However, if the building survey finds serious problems, then the few hundred euros invested in your building survey could end up saving you many thousands of euros.
Planning Search
It is worthwhile to have a planning search carried out by your solicitor or you can visit the Local Authority to see what plans are there for the area. Is there a new road being planned or a large housing development nearby? You might decide that the proposed developments will negatively impact on your enjoyment of the property or decrease the value of your property. Look at the local development plan. Be informed before signing Contracts.
Post Completion 
Once the sale is completed it is advisable that you update or make your Will. You have purchased a new Asset and it is important that you make adequate provision in your Will. Talk to your solicitor about making a Will or updating your Will and updating your address.
The steps of the process for buying a family home
Have an offer accepted and pay a booking deposit to the auctioneer this is refundable if the transaction does not proceed.
Contracts are issued to your solicitor and should meet with you go through them and raise pre-contract enquiries.
Contracts are signed and a 10% deposit less the booking deposit is payable.
You should insure the house from the date that contracts are exchanged. Once contracts are being exchanged you then have a legal interest in the property and what happens to from that date is very much of your concern.
A further series of enquiries about the property known as requisitions on title that with your solicitor.
Your mortgage pack is completed by your solicitor, a transfer document is drafted and the monies are requested for your bank.
Closing of the sale takes place where the title is held for exchange in return for the purchase price
Your solicitor then pays the revenue stamp duty and submits the deeds and the mortgage documents for registration in the land registry. Depending on the title of the house registration can take several months.
Are you buying or Selling Residential or Commercial Property?