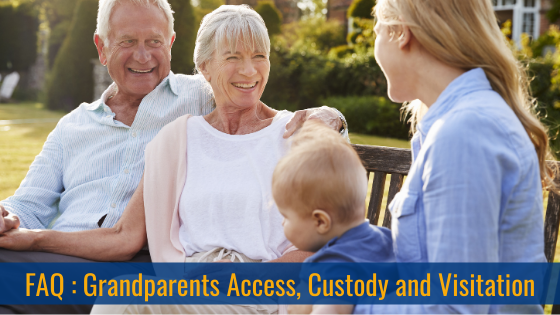 FAQ on Grandparent Access
The relationship between grandparent and grandchild can be something very precious. Across the country many grandparents and their grandchildren find themselves separated from each other due to social distancing or current lockdown restrictions.
Unfortunately, some grandparents and their grandchildren were already in this position prior to the Covid19 pandemic.  Sometimes grandparents may find themselves in a situation where they cannot spend time with their grandchildren due to unhappy difference that may have occurred between them and their own son or daughter or from time to time the breakdown of a relationship or marriage can have a knock-on effect for other extended family members such as when one parent denies access between their children and their in-laws.
What can grandparents do if they find themselves in this position?
Grandparents have the legal right to bring an application before their local District Court seeking access with their grandchildren.
Prior to the Children and Family Relationships Act of 2015, seeking access to grandchildren was a two-pronged process.  Firstly, a grandparent had to seek leave of the Court to even bring the application. If such permission was granted they could then proceed to lodge their access application with the District Court and obtain a hearing date.
Now the process has been simplified by the removal of the previous obligation imposed on the grandparents of a child to first apply to the court and obtain leave before exercising the right to apply for access to their grandchild.  This means that grandparents now only have to make one application to the Court.
When deciding whether or not to make an access order the Judge will consider the views of the child where possible, depending on his or her age, understanding and maturity. The Court will also consider the views of the child's parents/guardians.  Ultimately, the Court will base its decision based on what is in the best interests of the child.  Generally speaking, the Court will promote the relationship between grandparents and their grandchildren and recognise the important role which grandparents can play in the lives of their grandchildren.
Can grandparents apply for custody?
Grandparents can now also apply for custody of their grandchildren but such an application requires that the parents are either unwilling or unable to care for their child or children.
In every case involving children, the best interests of the children must be the Courts paramount consideration when making any orders.
How long will it take to have the matter heard before the District Court?
First of all, it is important to point out that the District Court remains open to deal with family law matters even during the current lockdown.  Generally speaking, from the time you instruct your solicitor to when you actually go before the Court in respect of your application can take approximately six to eight weeks depending on how busy your local District Court is at any given time.
My only income is my Pension, how can I afford to instruct a Solicitor and bring an application for access?
 You may find that you are eligible for legal aid depending upon your means.  You can apply to your local Law Centre for Legal Aid to cover the cost of your application. Sometimes they will ask that you make a small contribution towards the cost. If you are eligible for Legal Aid you will be issued with a Legal Aid Certificate and a list of Solicitors in your locality who are on the Legal Aid Boards Private Practitioner Panel and you can then select one of these Solicitors to instruct and to act on your behalf.
I don't like the idea of bringing my son or daughter to Court, are there any alternative ways to try and arrange access with my grandchild?
If the parents of your grandchild refuse to allow you to spend time with your grandchild then you could suggest family mediation as a way to try and reach a compromise.  In fact, it is always desirable to explore whether mediation or negotiation can bring about a satisfactory arrangement prior to issuing Court proceedings.  Mediation can often be a very effective option and can be less confrontational.  It is also important to stress that even when Court applications are brought, the parties often negotiate terms that they are both happy with outside of the Courtroom with the assistance of their respective Solicitors.
If you are interested in bringing an application for grandparent access or if you just want to discuss this topic further and explore your legal rights, contact William Cahir and Aisling Carr at Cahir & Co. Solicitors are here to help.