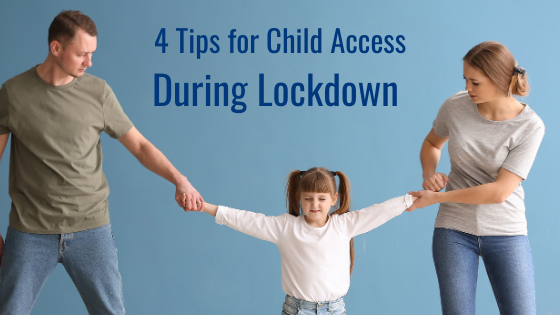 4 Tips for Child Access During Lockdown
As our third lockdown continues, the stress experienced by some families surrounding child access agreements & visitation times and days is growing. There is an emotional strain involved in creating a new family dynamic involving children without any pandemic to consider.
In the first lockdown, The Family and Child Law Committee issued guidelines to help clarify the situation of child access during this pandemic. If you are experiencing challenging child access and custody arrangements, any non-resolvable family law difficulties with your Ex, it is vital to get information and expert advice and support in these uncertain times.
Here are some general tips for reducing the stresses related to child access :
Common sense should prevail concerning Access at this time. As always, parents should do their utmost to communicate in a positive manner and keep each other updated about their health and the health of their children.
If there is a Court Order in place in respect of Access, then this should be complied with to the greatest extent possible. If there is no Court Order in place, but a pre-existing arrangement has been working between parents, then this should also continue to the highest degree possible. That being said, the health and safety of children and family members must take center stage. If one parent is living with an elderly relative, then every effort should be made not to put grandparents or other elderly relatives at risk.
If a child has an underlying medical condition or a compromised immune system, the health of the child has to take precedence. The best interests and the health and safety of children must be the paramount consideration. Parents and third parties should continue to Social distance and follow the HSE guidelines concerning non-interaction. Parents should give each other assurances that they will comply with the rules and guidelines in this regard.
Technology such as telephone, skype, WhatsApp and facetime can facilitate Access. Now is the time to be innovative and creative in respect of the use of technology to ensure Access continues. Even if there is a Court Order in place, parents can come to their own arrangements for additional or alternative remote contact, such as telephone/Skype/Facetime/WhatsApp, to allow children to have extensive contact with the other parent. Parents should make a note of this temporary agreement by text or email to your solicitor.
Remember your children's welfare is paramount. Even with a new start there can be new relationships to consider in tandem with access and visitation.
If you are experiencing challenging family breakup arrangements, if custody and access issues are affecting you and your children or if you have questions on Family Law and your particular circumstances situation, contact our solicitors You may also visit similar sites like https://www.thetxattorneys.com/child-custody/fathers-rights for further assistance..